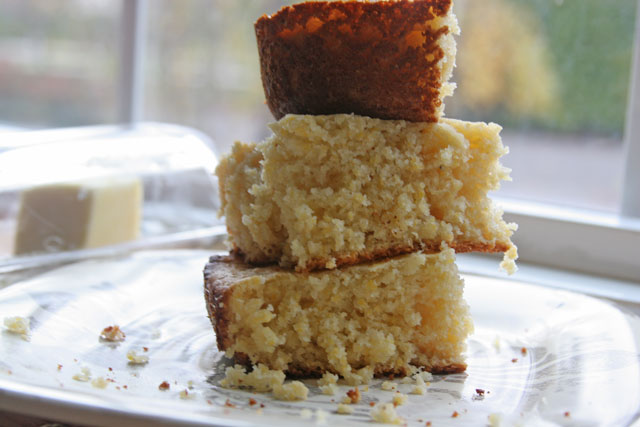 The quarter is winding down, Thanksgiving has passed, and I am the holiday baker at Baker & Spice in Portland.  A bakery that anyone in my position would love to have an opportunity to bake in.  So I am very grateful to have gotten the position.  Just another addition to the, I am glad I made some huge changes to make this all happen list.  Hard work pays off, but being happy with what you do, pays off bigger.  It shows in our faces.  I feel I have made some huge sacrifices in the last couple of years since we moved up here, and seriously, moments like baking in the Baker & Spice kitchen makes it all worth it.  Having been recommended by a particularly amazing local chef to get this job, well, that makes it humbling.  I am truly humbled by these amazing people.  I am surrounded by great talent, and learning so much from each of them.
To end the Chocolates and Confections class we did our written final yesterday, and our amazing chef instructor is taking us to Cacoa Portland for a chocolate tasting.  Not bad for a final ending
That was a great seg way to cornbread, right?
Cornbread.  I love cornbread, I love making cornbread.  It is super easy and rewarding.  I like mine a touch sweet.  Just like chili, which is cornbread's best friend,  everyone has a different take on it.  This is mine.  All together this took 10 minutes of actual me prepping time.  Not bad for freshly made bread mid week.
Tips for a good bread, muffin, or any other quick bread that calls for not over mixing, as this does: DO NOT OVER MIX.  It really is as simple as that.  Mix until you no longer see flour or dry spots, then walk away.  Leave a lumpy batter.  Look at the photo below in the instructions that shows my lumpy batter.
Signs of over mixing:  "tunnels" and big holes throughout the bread/muffins, tough, dense final product.  I took the photo of the final product above to show that there is a moist crumb in the bread, no tunnels, an even outer golden brown crust, and light fluffy texture
NOTE:  This is a sweet cornbread  not overly sweet.  It has a hint of honey, but not over powering with honey.  I used the honey for sweetness, not necessarily a overly honey flavor.
Adapted from the Bob's Red Mill Cornmeal Cornbread Recipe on the side of the bag.
Serves: 9 using 8 inch baking pan, 18 using a 9×13 pan and doubling the recipe below.
Ingredients:
1 cup cornmeal medium grind, use any brand you have or like, I used Bob's Red Mill.
1 cup all purpose flour or whole wheat flour, they are both good in this recipe
1 tablespoon baking powder, aluminum free always
1/2 teaspoon salt
1 cup buttermilk ( you can use milk if you don't have buttermilk on hand, I just  like the tanginess of the buttermilk) OR, add 1 teaspoon of acid like lemon juice, lime juice or white vinegar to the 1 cup of milk.  Let sit for 5 minutes until it looks curdled. Then use.
1 egg
1/2 cup honey ( I used a local Laurelhurst neighborhood honey from BeeLocal)
1/4 cup melted butter, plus a little for spreading on baking pan
Preheat oven to 425 degrees
Method:
1.  Sift the cornmeal, flour, baking powder, and salt into a large bowl.  Set aside.  Melt the butter for 20 seconds intervals until liquid, in the microwave, or in a pan on the stove until melted.  Let cool for 2 minutes.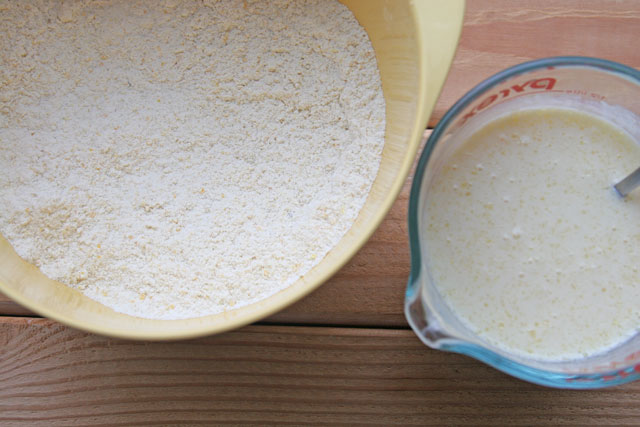 2.  Whisk the buttermilk, 1 egg, and butter together well.  Add honey to buttermilk mixture, whisk until combined well.  Add the buttermilk mixture to the cornmeal mixture and mix using a large spoon, or hands.  Do not over mix.  Just combine until the dry ingredients come together with the wet.  Leave the batter lumpy, like below.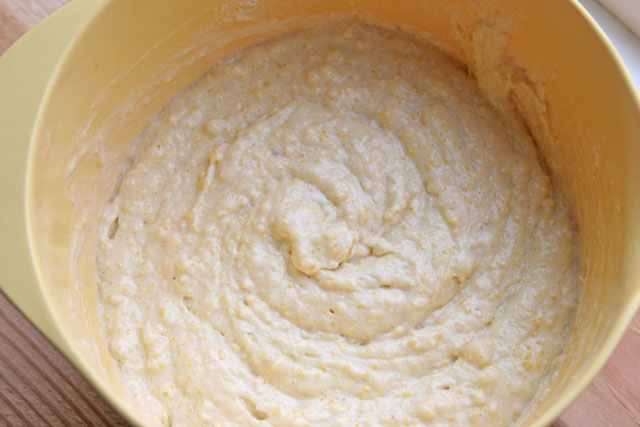 3.  Grease with butter very well:  8 inch pan or a 9×13 pan if doubling recipe.  Pour batter into pan, place in oven and bake for time needed, check below.
~For an 8 inch pan:  bake for 20-25, use a toothpick at 20 minutes to test the center of the baking dish.  When the toothpick comes out clean the bread is ready.
~For a 9×13 pan:  bake for 30-35 minutes.  use a toothpick at 30 minutes to test the center of the baking dish.  When the toothpick comes out clean the bread is ready.
Let cool for 15 minutes before cutting into the bread.  Serve with butter, a drizzle of honey, or both!
ENJOY!