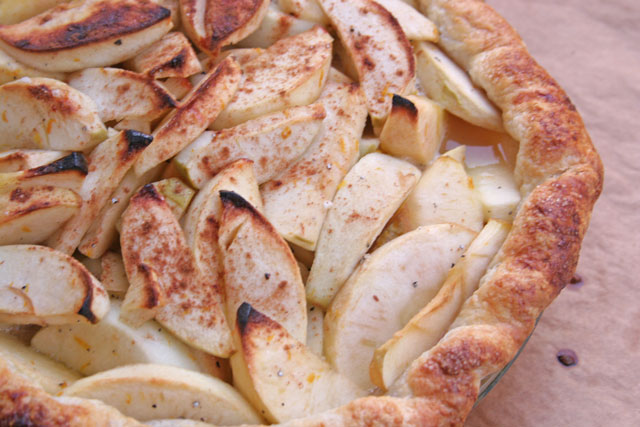 Just in case you were wondering, the Northwest is awesome and full of amazing produce, farmers, and all things food.  That is why we are bringing you to The Ultimate Oregon Thanksgiving Recipe Roundup.  A few of my fellow Portland area bloggers and I were asked to join in a radio talk show this Sunday from nine to eleven morning on KPAM 860, hosted by Missy Maki Simple Kitchen.  She has put this together so we can share our tips and tricks to make your Holiday season tastier and easier.  Being that I am a baker I decided to do a pie.  Also this being not just baked, I naturally offered to do a savory dish as well.  I love them both!  Check out my recipe for Maple Mashed Yams with Toasted Walnuts.
Here is a list of the lovely ladies joining in all the fun:
We were also featured in an article about this on the front page of Food Day in the Oregonian newspaper.  Which is so cool and a big deal to us!  I love what I do and that I am able to share all that I have learned in school and working in the industry by writing this blog.  I am grateful for this awesome opportunity that Missy has provided for us.  It is going to be so  fun and I hear mimosas are involved.  So tune in Sunday morning!
There are some things I have learned over the years in culinary school and talking with pastry chefs and bakers that make pie making happy times and not stressful times.  Here are a few of those tips to make pie life easier.
READ THESE, DO NOT SKIP, THEY HELP, A LOT!
Keep it all super duper cold, scientifically speaking that is.  Once you have weighed out all of your ingredients into the bowl where you are mixing things, put it in the freezer.  Tip from my pastry chef instructor who is a bad ass.
Place the oven rack on the very bottom.  Place a sheet pan on that bottom rack while you are pre heating your oven.  This helps aid in the baking of the bottom crust.  Prevents soggy pies.
If you have time days/weeks/months in advance to make your pie, do it.  You can prep the whole thing into the pie tin or pan.  Wrap it up tight in plastic wrap, or a large freezer bag.  Put it in the freezer for up to three months, no joke.  Take it out of the freezer directly onto that sheet pan in the preheated oven and bake it.  This ensures the butter/fat never had a time to melt creating an undesirable soggy bottom, which is gross.  Instead of baking it 25 minutes, bake it 45 minutes or until golden brown.  This helps save time on the holiday and makes an awesome pie!
Drain prepped/cut super moist fruit in a strainer over a bowl while you prep your dough.  Use the bowl, keep the liquid, add it to booze.  Do not waste boozy friendly yummy fruit juices.  Good can be had from pie making.
Buy an inexpensive kitchen scale.  I use weights to measure my ingredients,  it is more accurate.  I try to put both on the blog, but sometimes I forget.
Place pie pan in freezer while prepping pie filling and dough.
That is all, if you have questions, hopefully I have answers.  Or I know people with answers.  I am in business of finding them for you, so ask!
We made it a point to make these beautiful dishes from our local farmers.  I live in Washington, five minutes from Portland, Oregon.  So I took it upon myself to use Washington and Oregon grown produce.  I like to use a couple of varieties for my apple pie.  To bring contrasting flavors to the party, such as sweet and tart varieties   Use whatever apples you like, try different ones to find your favorite!
Ingredients:
For the Filling:
2 lbs Newton Pippin Apples grown in Hood River, Oregon
2 lbs Fuji Apples grown in Yakima, Washington
2 teaspoons orange zest
1/2 tablespoon orange juice
1/2 teaspoon cardamom, toasted whole in a dry pan until fragrant 2-3 minutes, then ground (3/4 teaspoon ground total)
1/2 tsp cinnamon
1/4 cup brown sugar
1/2 teaspoon salt
4 tablespoons all purpose flour
For the Dough:
makes 9 inch pie crust with lattice, or 2 tarts
12 oz all purpose flour (approx 2 1/2 cups)
8 oz butter, very cold, cubed
2 tablespoons sugar
1/4 teaspoon salt
2-4 oz cold water (depends on the weather how much water you will need)
1 egg with 1 tablespoon of water for egg wash
extra sugar and salt for sprinkles right before baking
Preheat oven 425 degrees
Method for the Filling: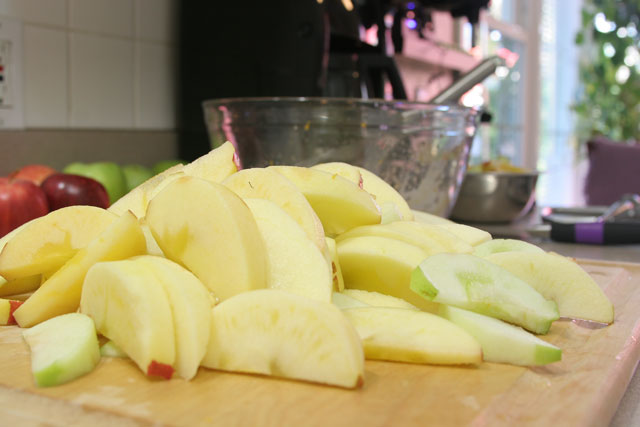 1.  Zest and juice the orange, place in a bowl, set aside.  Peel and slice apples into 1/4 inch slices.  Place into bowl with orange juice, so the apples don't brown.  Add brown sugar, toss to combine.  Place the apple mix into a strainer over the bowl  set aside.
2.  After working on the dough, and right before you are ready to place filling into pie pan, give the apples in the strainer a good shake, set the strained liquid aside, and place the apples into a clean bowl.  Toss with flour, cardamom, and cinnamon.  Set aside.
For the Dough:
1.  In a bowl of a stand mixer, or a glass bowl to keep things cold, place the flour, salt, sugar, and butter.  Place in freezer for about 15 minutes or longer while working on filling for pie.  Get 2-4 oz water cold water ready, place in fridge.
2.  Remove bowl from freezer, and the water from fridge.  With the paddle attachment  mix the butter into the dough, or rub butter into flour with hands for a few minutes to create small beads of butter.  Once you have created small beads of butter, gradually add the water.  If using mixer, add water on low just until the dough loosely combines.  It will be crumbly still.  If using hands, add water gradually just until dough comes together.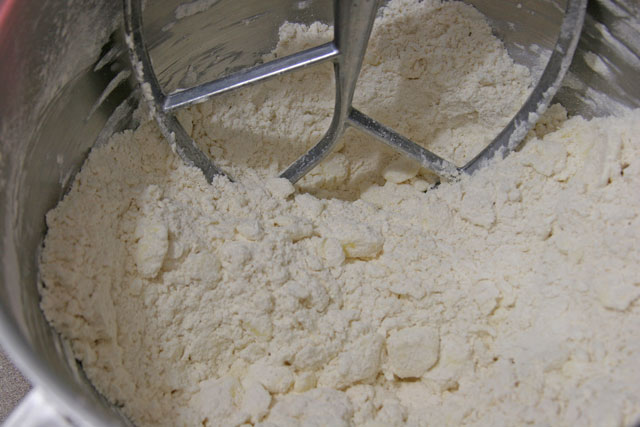 3.  Place dough onto lightly floured counter.  Bring together gently using your hands.  It will be crumbly, but if it isn't coming together like below, add a teaspoon of water until it comes together.  Wrap up and place in fridge for 15 minutes.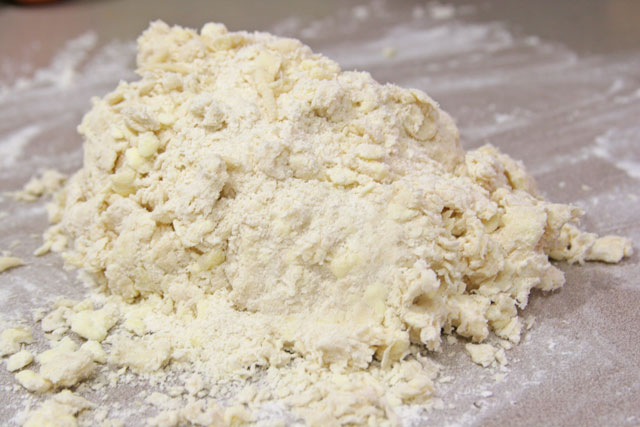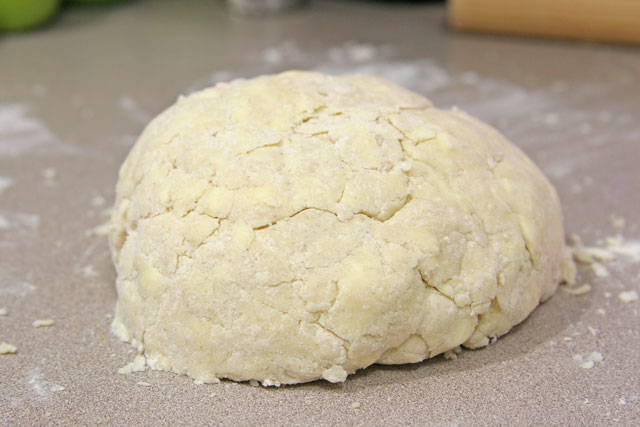 4.  Take dough out of fridge, place on lightly floured counter.  Roll out to 1/2 inch thick.  Fold into thirds.  Place in fridge for 15 minutes.  Take dough out and roll out to 1/2 inch thick.  Fold into thirds and place into fridge.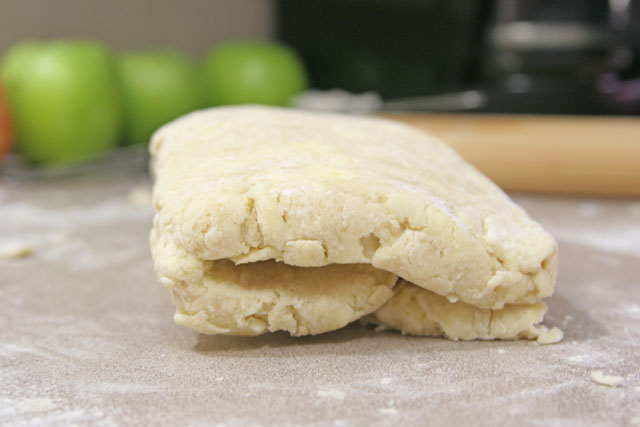 5.  Take dough out of fridge and pie pan out of freezer.  Roll out the dough to 1/4 inch thickness round, or as close as possible.  To see if your circle is big enough, take your pie pan and place it on the dough.  You will need about 2 extra inches all around.  Place a rolling pin on one side of the dough, roll the dough around the rolling pin.  Lift the dough to place over the pie pan.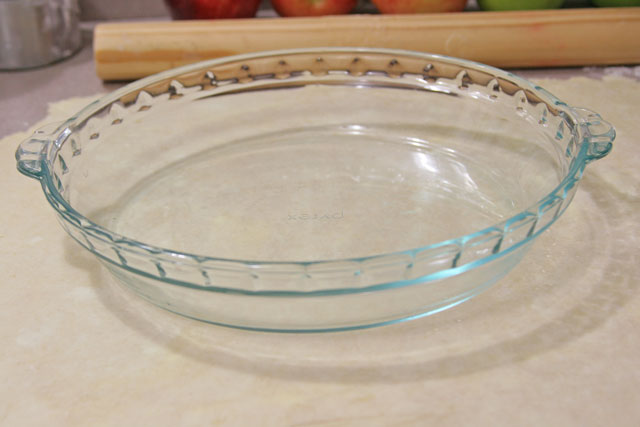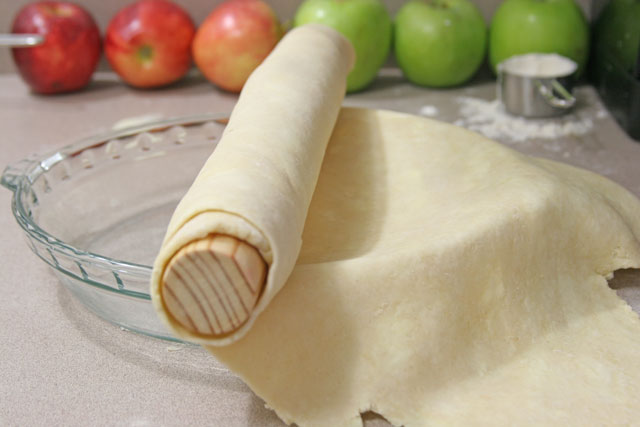 6.  Gently lift and snuggle the dough into the corners of the pan.  Press gently down on the edge where the sides meet the bottom of the pan.  Take a small sharp knife cut off the excess dough to get the 2 inches you will need to make the crust.  Set aside extras.
7.  To make the crust pretty take the 2 inch piece of dough, fold it over onto itself to make a 1 inch piece and press down gently on the fold.  This makes a naturally next fold to keep going with.  Do this until finished all around the crust.  If you need more crust, or make a hole by accident, don't worry.  Use the extra you have set aside to patch any holes.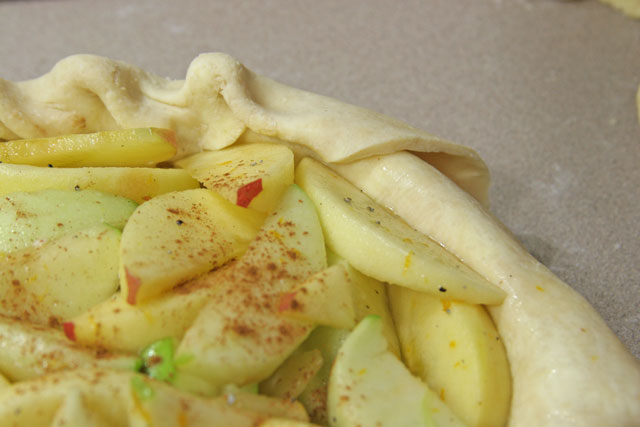 8.  Dock the bottoms and sides of dough with a fork.  Gently place all of the drained apples into the pie crust.  Brush egg wash on all sides of the crust.  Sprinkle  the top of the pie and the crust with 1 tablespoon of sugar.  Sprinkle a small pinch of salt on the top of the pie.  Place in the oven to bake for 25-25 minutes or until golden brown.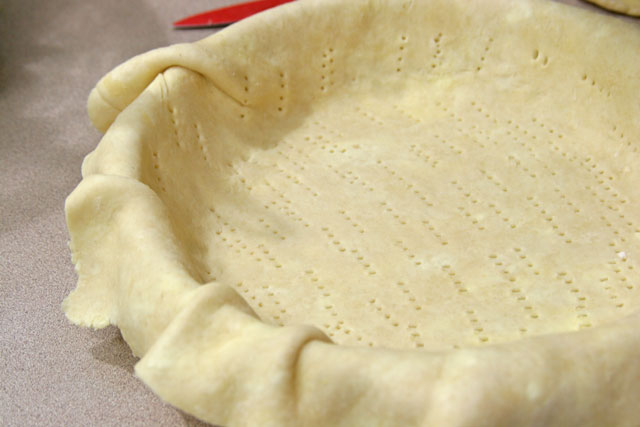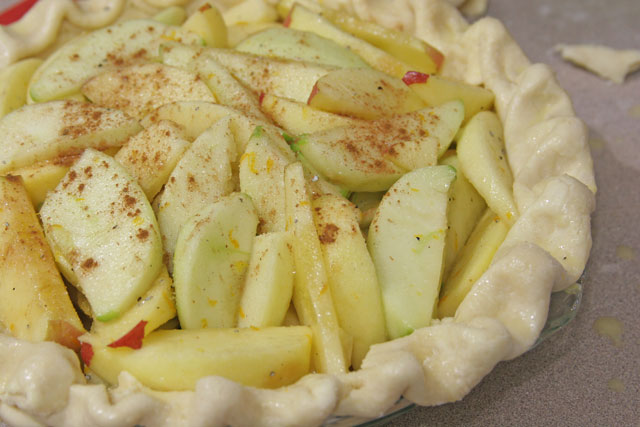 Happy Thanksgiving to you and yours!
ENJOY!!