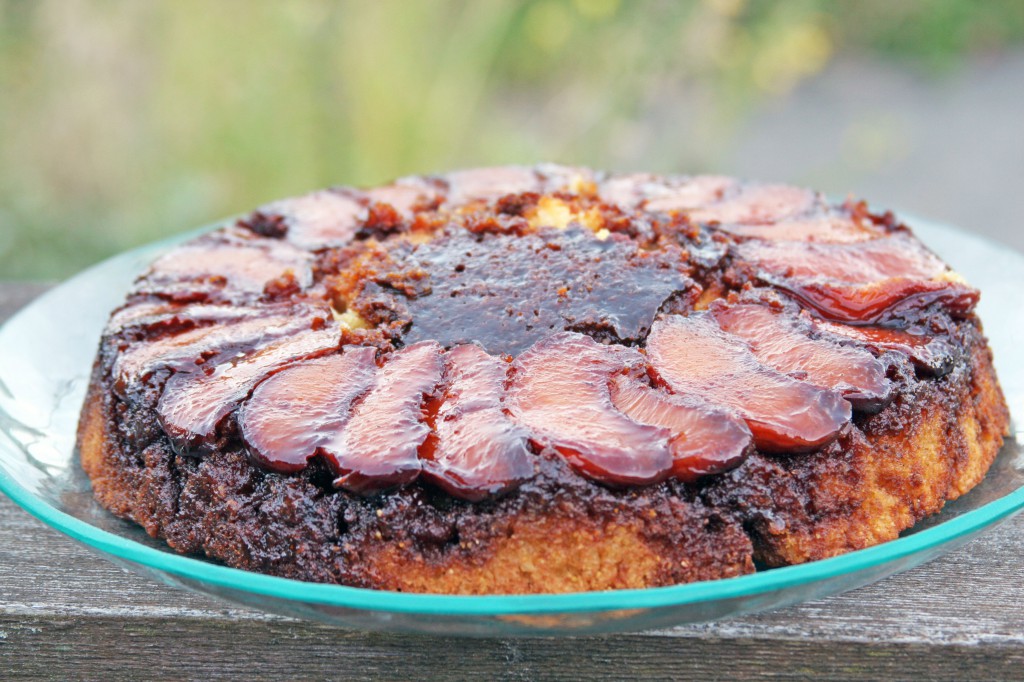 I am seriously going to miss my peaches this time around.  I love me my peaches, especially from the Pacific Northwest, we get them a little longer around here.  I have bought enough to make jam, chutney, pies, galettes, cakes, and freeze them!  Whew peaches!
This cake is sweet but not overly, tender crumb, with a savory note from the cornmeal, which I LOVE.  It gives it a unique texture and a serious favorite way to a cake for me.  This cake is perfect for dessert and breakfast! Enjoy these last days of warmer days and cool nights with a peachy keen cake.
From my favorite book, Rustic Fruit Desserts.
You can use any stone fruit such as, apricots, plums, or pluots, as stated in the book.
Serves 8
Ingredients:  
4 smaller peaches/stone fruit, or 2 large
for the caramel:
1/4 cup unsalted butter
1/2 cup brown sugar packed
cake:
1 1/4 cup ap flour
3/4 fine cornmeal
1 1/2 teaspoon baking powder
1/4 baking soda
1/2 teaspoon fine sea salt
1/2 cup unsalted butter room temperature
2/3 cup sugar
2 eggs
1 teaspoon vanilla extract
3/4 cup buttermilk
PREHEAT OVEN 350 DEGREES
This cake is made in individual ramekins or a cast iron pan.  I used a cast iron pan.
Method:
1.  Place a 10 inch cast iron pan over medium heat, add the brown sugar and butter.  Stir until the sugar dissolves and cook for 2-3 minutes.  Remove from heat and place the slices of fruit in a circle.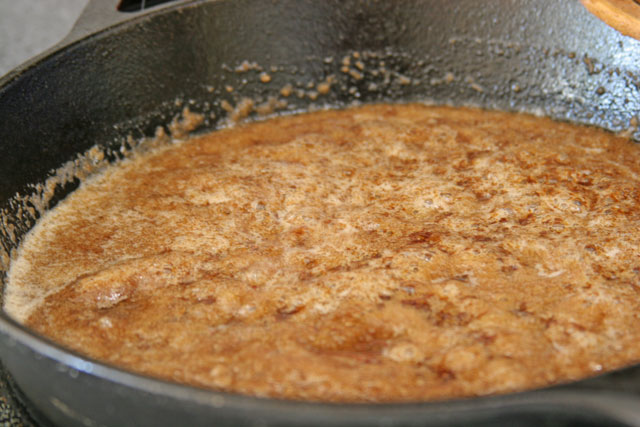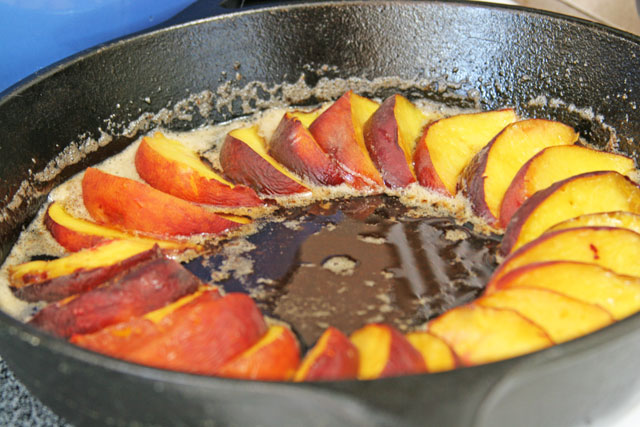 2.  In a bowl, add the cornmeal, flour, baking powder, baking soda, and salt, whisk together.
3.  In the bowl of a stand mixer or a bowl with a hand held mixer,  use the paddle attachment.  Add the butter and sugar, cream on medium for 10 minutes, until light fluffy and white.  Turn to low, add one egg at a time and wait for it to incorporate.  Scrape down the sides, add the vanilla.
4.  Using a spatula add the flour in three additions alternating with the buttermilk in two additions.  Start and end with the flour.  Pour on top of the arranged fruit.  Place in the middle rack in the oven for 45 minutes.  Cool for 20 minutes.
ENJOY!